How to donate food to those in need
If you are a private person…
If you want to give us a small amount of food for those in need (up to 50 kg), you can bring it to one of our Social Stores in Gdynia or Gdańsk (more information here).
Please note that we only accept products within their expiration date, factory sealed, undamaged and labeled in community stores. We cannot accept home-made food, such as ready meals, salads, cutlets, etc., but we can help you find a place where such donations are accepted. Feel free to contact us by e-mail or phone!
If you are an entrepreneur or a producer…
If your company has food surplus to share, it can donate it to Food Banks as a food donation with no tax burden!
To make a donation, please contact Miłosz Wszelak: milosz.wszelak@bztrojmiasto.pl
What products can be donated to the Food Bank?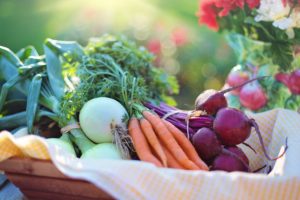 Food Banks, taking into account the nutritional needs of people to whom the donated food goes, accept any type of food – including those with a short use-by date (delivered at least 2 days before the expiration date). You can give to the Food Bank:
fresh and seasonal products such as bread, fruit, vegetables,
perishable products or products that require refrigeration, e.g. yoghurt, cheese, butter, meat or cold cuts,
durable products, e.g. pasta, rice, groats and oils.
What happens to the donation you have made?
After collection from the donor, the food is counted and goes to the warehouse of the Food Bank or to one of the social stores. Storage of the donation item takes place while ensuring appropriate sanitary and hygienic conditions (in accordance with the HACCP rules) and any additional storage and transport instructions provided by the Donor.
The Food Bank registers donations in the warehouse system in accordance with the document received by the donor and confirmed on receipt of the donation. This allows for full transparency in the distribution of donations.
To confirm the transfer of products to the Food Bank, the entrepreneur receives a delivery and acceptance report, a delivery note (release from the warehouse), an internal invoice or a donation agreement.
What are the benefits of making a food donation?
We hope that, above all, it is a sense of doing a good deed and meeting the need to help other people. By donating food with a short expiry date, you also prevent food waste and protect the environment. Cooperation with Food Banks in this area may become an important element of your company's CSR policy.
But that's not all. Food donation also allows you to:
VAT tax exemption – a food donor to a public benefit organization is exempt from the obligation to pay VAT

tax

on the donation, if the donation is intended for charity activities carried out by that organization.
Including the value of a food donation in tax deductible costs – each entrepreneur who transfers a donation to Food Banks may include the purchase price or the cost of its production as tax deductible costs, and thus reduce the CIT

tax

base.
Who receives the food donated to the Food Bank?
Food Banks donate the obtained food to partner social organizations such as, for example, day-care centers and educational clubs for children, child support societies, single mother homes, eateries or associations. Each Food Bank knows the environment of local organizations that provide food for the needy.

Every day, associations and foundations come to the warehouses of Food Banks to obtain food for their charges. Food support provided by Food Banks is used by families with many children, the unemployed, the homeless, the disabled, people recovering from addiction and many others who find themselves in a difficult life situation. Food banks support with food seniors, adults and children.
Download materials [POLISH]:
---
If you are in a difficult life situation and need food support, you can:
get help in one of our Social Stores "Za Stołem" in Gdańsk or Gdynia – more information here.

get help from one of our partner organizations – more information here.

contact us to find the best form of assistance: tel.

(58) 325-24-48, e-mail: biuro@bztrojmiasto.pl
---
Social Stores "Za Stołem"
"Za Stołem" social shops were created as an innovative form of aid, combining food support with social integration. Our stores are places where food saved from wasting from shops and supermarkets goes and can be used by people in a difficult life situation.
We opened the first Social Store in a pilot mode in September 2017 in Gdynia at Lotników 86 Street in cooperation with the Gdynia MOPS. In the first year of its operation, the store distributed over 12 tons of food to the needy. In February 2019, in cooperation with MOPR, the Social Store was launched in Gdańsk, at Wolności 52 Street.
The type of products available in Social Stores "Za Stołem" each time depends on the current donations. Usually these are vegetables and fruits, as well as meat, fish, cold cuts, dairy products and ready meals.
The Social Store in Gdańsk can be used regularly by people with valid referrals. In the last opening hour, people who do not have referrals can also come to collect food – they must sign a declaration that they are in need, and then they can collect food three times, after this time, the collection will be possible after the decision of the MOPR.
Opening hours:
| | | | |
| --- | --- | --- | --- |
| | Social Shop in Gdynia-Orlowo | Social Shop in Gdynia-Obluze | Social Shop in Gdańsk |
| Monday | – | 12.00-16.00 | 9.30-15.30 |
| Tuesday | 10.00-14.00 | – | 9.30-15.30 |
| Wednesday | – | 12.00-16.00 | 9.30-15.30 |
| Thursday | 14.00-18.00 | – | 12.00-18.00 |
| Friday | – | – | 9.30-15.30 |
The project of the Social Store "Za Stołem" in Gdynia is carried out in partnership with the Municipal Social Welfare Center in Gdynia. The project is co-financed by the City of Gdynia.
The "Za Stołem" social store in Gdańsk is an initiative co-created by the Food Bank in Tricity and the Municipal Family Support Center in Gdańsk. The project is co-financed by the Municipality of the City of Gdańsk.
---
Do you want to organize a workshop or training on not wasting in your school, work or restaurant? Our trainers conduct many educational activities for children, youth, adults and seniors. Are you interested in workshops? Write to us at biuro@bztrojmiasto.pl.
Joanna Budna
Janusz Arrasz

Dietary workshops

Zero waste workshops

Culinary workshops

Dietitian and psycho-dietician, nutrition and culinary educator at the Food Bank in Tricity for over 3 years. She has conducted over 100 culinary workshops for various age groups, from preschoolers to seniors. During her workshops, you will learn what to eat to stay healthy for a long time, how to read labels and not fall for the tricks of food producers, and even … how to store food in the refrigerator so that it remains fresh and tasty for longer.

Health promoter, specialist in the field of organic and vegetarian food. Creator of original healthy eating programs, including numerous TV and radio programs. He has over 20 years of experience in the field of preventive healthcare, organic and vegetarian food. For years, he has been cooperating with many aid and non-governmental institutions. Organizer of events promoting a healthy lifestyle.
---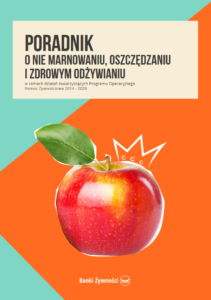 A guide on not wasting, saving and eating healthy
Do you want to know how to avoid food waste? Download our free "Guide to saving money and eating healthy"! In it you will find:
the basics of a proper diet,

10 rules of healthy eating,

recipes that allow you to cook tasty, economical and healthy meals

information on the correct storage of food to keep it fresh for as long as possible,
To download a pdf file, click on the cover.
---

Food distribution standards
The e-publication summarizes the principles of cooperation with the Food Bank in the Tri-City in the field of food donation. The e-book provides tips on the correct transport and storage of food donations, explains in detail the intricacies related to the flow of documentation and accounting for donations, and provides comprehensive answers to questions about cooperation with the Food Bank.
To download a pdf file, click on the cover.
---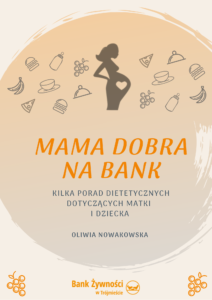 Healthy mom
A collection of advice on the nutrition of mothers and babies – from pregnancy through the puerperium to the first year of life. In a short guide prepared by Oliwia Nowakowska, a midwifery student and volunteer of our Food Bank, you will find ways to deal with popular ailments that arise during pregnancy, as well as information on feeding babies and expanding their diet.
To download a pdf file, click on the cover.