27 September 2023
Partnership with Oetker – pizzerias that reach further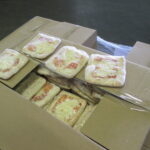 Oetker provided us with a donation of pizzerias. Almost 6,000 pizzerias found their way to our organizations
Partners, and through them – to people in need in Pomerania. Thanks to the donation, the Organizations will be able to support disabled people, seniors, refugees and children who experience difficulties every day.
We would like to thank Oetker for its help and our Partner Organizations for their commitment and support. Thank you for being with us. Together we offer not only food, but also hope and smiles.